Staff Background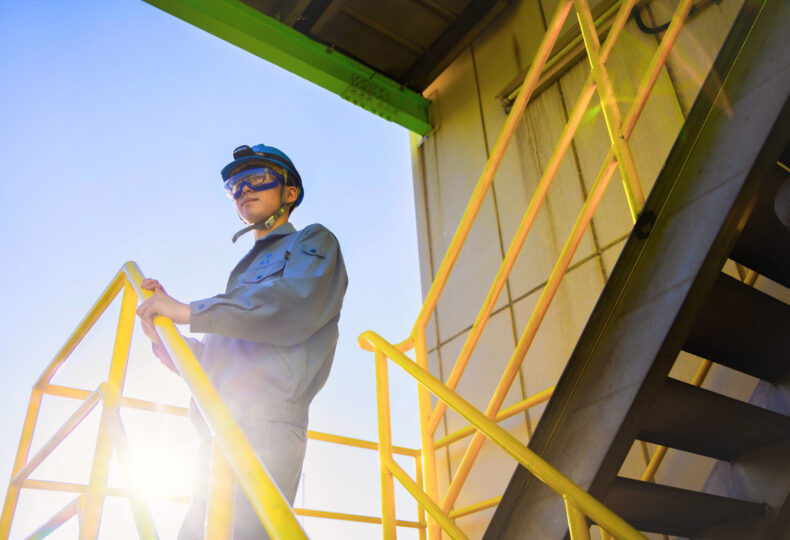 Second year at MANAC and "put in charge, from raw material preparation through to final product" / the younger members of the pharmaceutical manufacturing team (2)
MANAC conducts research, development, and manufacturing of the chemical intermediates and active pharmaceutical ingredients (API) used in pharmaceuticals. The market for pharmaceuticals is anticipated to expand moving forward, which demands improvements in precision for technological development and manufacturing processes in addition to business development with consideration to the mid to long term. Initiatives for talent development targeting younger employees have started at MANAC's Fukuyama Factory in Hiroshima, Japan.
Initially considering joining MANAC for its generous seasonal bonus…
Mr. Tomoki Inoue, born and raised in Fukuyama, Hiroshima, Japan, is a younger employee who joined MANAC in April 2020. After graduating from a prefectural high school, he first attended a four-year technical school to become a physiotherapist. However, while attending, he felt that the field was not quite right for him, and subsequently went to Japan's employment service center, Hello Work, in search of work. It was there that he was introduced to MANAC.
"This is something I can admit now that time has passed…out of the many different companies I looked into, MANAC had the most generous seasonal bonus, which is what initially motivated me to consider joining MANAC."
While the bonus was certainly appealing, Mr. Inoue soon learned of the chemical intermediates made by MANAC used in many daily essentials, such as electronic materials and pharmaceuticals, after touring the factory and meeting with MANAC staff over a number of times. Now with a strong interest in the company, Mr. Inoue developed a sense of affinity toward MANAC, and explains that he ultimately "really wanted to join MANAC."
After joining MANAC, Mr. Inoue was assigned to a team that produces pharmaceutical intermediates and APIs.
When at the frontlines of pharmaceutical manufacturing, follow the view that people are fundamentally "flawed"
Having no experience in organic synthesis as a university student, did you find it challenging to suddenly be at the frontlines of pharmaceutical manufacturing?
I was completely clueless at first. Before doing any work, I first went through training, and after that, I learned by following the examples of my more experienced colleagues at the frontlines. I would be quite taken aback whenever someone warned me something like, "This substance is really dangerous if breathed in."
You really can't tell if something is dangerous if you don't know how to recognize the smell of dangerous substances, can you?
Exactly. There is just so much that you cannot learn just from the initial training alone, so I had to gradually learn by actually smelling the types of odors that come from each raw material.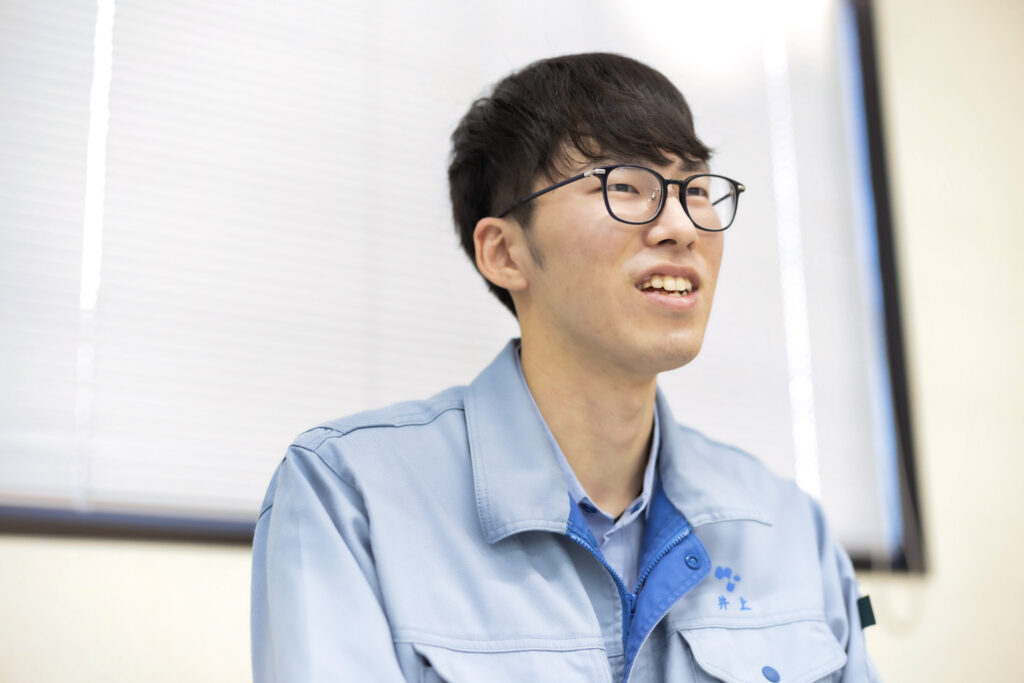 It has been just under two years since you joined MANAC. Would you say you have grown quite accustomed to your job?
At first, I couldn't do much other than learn by watching others, but now I am at times put in charge of entire processes, from raw material preparation through to the final product. I work while having a senior employee double-check with me, who will let me know if I've made any mistakes.
Is there anything you are particularly careful about in your work?
I'm sure this is not limited to the frontlines of pharmaceutical manufacturing, but I have come to learn that it is important to approach work with the view that people are fundamentally "flawed." Take calibration as an example. There are thermometers that measure the internal temperature of reactors, which need to undergo inspection periodically to confirm that they are indicating the correct temperature. I carry out calibration following set procedures with an assumption that the thermometers may be reading incorrectly.

If we don't carry out our work with the assumption that there may be mistakes even after the double checks that are conducted during the procedures, then our confirmation work becomes nothing more than simple steps without a meaningful purpose. I also make sure there isn't anything out of the ordinary during chemical reactions by regularly looking inside reactors. That means we have to stop everything if anything abnormal occurs.
Has your life changed since joining MANAC?
I've started looking up and studying the instruments and products I use a lot on the internet. I've also been asking my senior colleagues more questions about anything I'm unsure of.

As soon as I joined MANAC, I began feeling a sense of joy when working with production. More recently, I have also started feeling both a sense of responsibility and accomplishment in relation to pharmaceuticals since such products go directly into the body. I put pressure on myself in an effort to take care and be thorough in my work, both when carrying out chemical reactions and when organizing and cleaning equipment in preparation for reactions.。
A promising young Pharmaceutical Team member in his twenties
Supervising manager of manufacturing Mr. Mitsuhiro Hirono joined MANAC around 14 years ago after working at a pharmaceuticals-related company. In the time since joining MANAC, Mr. Hirono had witnessed the company become more involved in the production of pharmaceutical intermediates. Mr. Hirono explains that he informed company management that the team wanted younger talent, even if they were not knowledgeable in organic chemistry.
"MANAC's history within the pharmaceutical field is still young, and with many on the team working dual hat positions at other factories or having joined the company as mid-career hires, the team was comprised predominantly by those in their thirties and forties up until recently. But pharmaceuticals is an area we need to focus on moving forward, and for that, we need to cultivate young talent."
According to Mr. Hirono, it takes around five to ten years to become a full-fledged engineer. Mr. Inoue is one such promising team member in his twenties.
"Having knowledge of organic chemistry from university or other such academic facility is important, but since the manufacturing of pharmaceuticals requires strong ethics, education and training as a working adult is crucial first and foremost. So, it is preferable to have personnel without specialized knowledge, since we can train them from scratch, over those who might come in with partial expertise accompanied by preconceived notions. Mr. Inoue really fits the bill for pharmaceutical manufacturing with his personal philosophy of following whatever has been decided, and not straying off on his own whim. I'd say that he is progressing quite well at the moment."
Mr. Inoue explains that now, "I've learned about the things I couldn't understand at first, and I feel that my own interests and curiosities are branching out." He continues in his daily work engaged in the production of intermediates used in an investigational gynecological drug expected to soon be approved as a new drug.