Products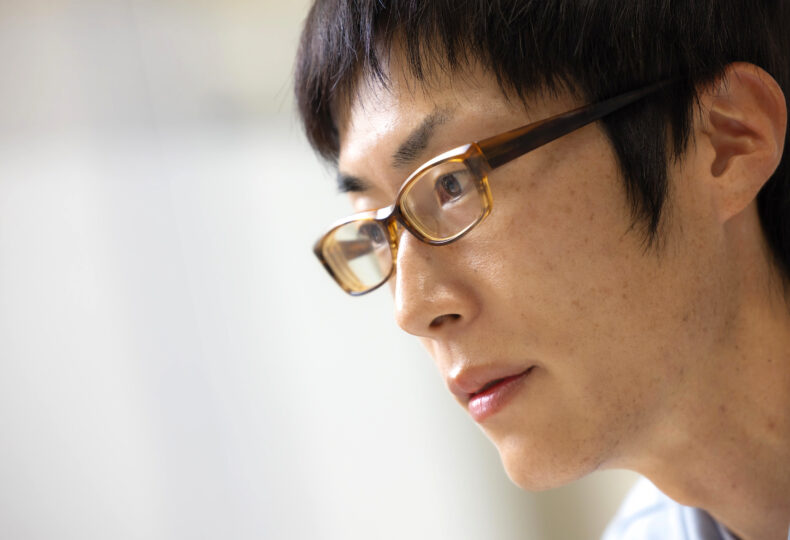 Responsibility and accomplishment as the engine of work / the younger members of the pharmaceutical manufacturing team(1)
MANAC conducts research, development, and manufacturing for chemical intermediates not only for electronic materials but also for intermediates and active pharmaceutical ingredients (APIs) used in pharmaceuticals. MANAC manufactures a portion of the APIs used in a gynecological investigational drug that is expected to soon be approved as a new drug. Playing important roles at the frontlines, where the highest standards of safety are demanded, are some of MANAC's younger staff members.
Experiencing the production of ODPA-C, the "face" of MANAC
Mr. Hiroshi Mita is a mid-career level staff member who transferred to the production team for pharmaceutical intermediates and APIs at MANAC's Fukuyama Factory in July 2020.
Up until his transfer, Mr. Mita was part of a Technology Department where he engaged in prototype development at factories, a process that involved repetitive trials with products and intermediates produced at the laboratory scale with the aim of enabling production at the commercial scale. While Mr. Mita was involved in the manufacture of a number of products in development, he reports the production of ODPA-C (4,4′-oxydiphthalic anhydride) was among the most impressive.
MANAC had already been manufacturing a compound known as ODPA-M. This compound came to be a hit product for MANAC, so much so that it could be described as the "face" of the company. It was used as a raw material for the polyimide resins used in the electronic materials field, such as in semiconductors. However, issues of stable raw material procurement and sudden spikes in raw material costs, among other various unstable factors, led to the need to change certain raw materials without changing product quality.
With the compound successfully produced at a laboratory scale, it was now up to Mr. Mita and his Technology Department team to take it from there. The year was 2011, a decade prior to now. In order to synthesize a volume roughly 1000 times that of the laboratory stage, adjustments were made to the application of heat and reaction times. Repeating this process for a reaction once every two days, Mr. Mita and his team realized production of ODPA-C on a commercial scale over the course of one year.
"I didn't study organic synthesis as a university student, so I wasn't sure how I could contribute at MANAC with its main focus on organic synthesis. This was the first time I felt a sense of accomplishment."
Working with the Pharmaceutical Team
Mr. Mita was born in the city of Hatsukaichi, Hiroshima, home of the famous Itsukushima Shrine, also known as Miyajima. After graduating high school, his research centered on culturing microbes at the Faculty of Life Science and Biotechnology of the University of Fukuyama. With an impression of MANAC as a "major local company" when he first learned of the company during his job-hunting activities, Mr. Mita joined the company as he wanted to work within Hiroshima Prefecture. However…
"When I first joined, I noticed right away that my level of knowledge for chemistry was not equal to that of my peers. Many of the people I joined the company with had studied organic synthesis at university or graduate school."
After working at the frontlines of advanced materials manufacturing, Mr. Mita then belonged to the Technology Department, which handles a wide range of projects for compound synthesis, including the abovementioned ODPA-C. Among these projects, he was involved in a prototype for the first API to be manufactured at MANAC.
The Pharmaceutical Team closely adheres to good manufacturing practice (GMP) standards in their work in order to clear strict regulations. Mr. Mita describes that while working with the team, "I found it interesting."
"After I first joined the company, it was a lot of fun to work with the manufacturing of products. Now on top of that, I came to identify with the dedication the Pharmaceutical Team puts into their work to serve patients, which is conducted under tight management in accordance with laws and regulations. It was then I realized that I could contribute more to the company if I could gain not only knowledge in organic chemistry, but also my own knowledge and experience in GMP."
Mr. Mita began to respond, "I want to go to the Pharmaceutical Team" whenever asked about his preferences for transfers.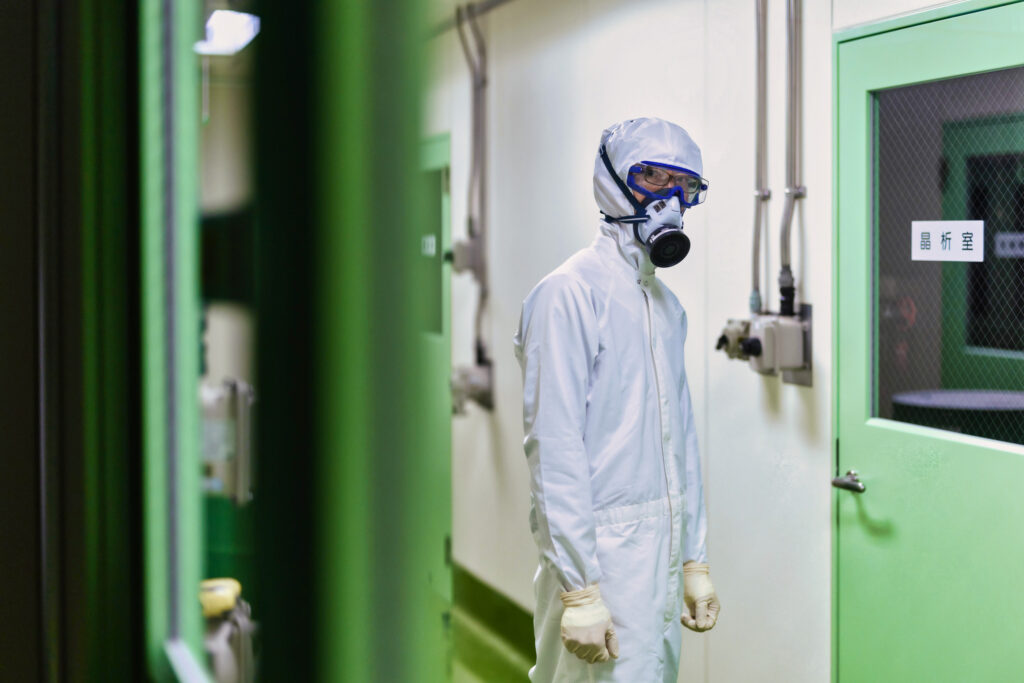 Exercising prudence: "My own mistakes could cost the lives of patients"
When Mr. Mita transferred to the Pharmaceutical Team in July 2020, the spread of COVID-19 was being covered in the media for days on end. Never before had matters of chemistry been reported in so much detail in the news, including in relation to vaccines and treatment drugs.
"Ever since I joined the Pharmaceutical Team, I naturally started reading the kind of news that I had never been interested in before."
Up until transferring to the Pharmaceutical Team, Mr. Mita was involved mainly in the manufacture of the following:
・ APIs for pharmaceuticals that promote the secretion of bile
・ APIs for topical antifungal pharmaceuticals
・ APIs for veterinary disinfectant pharmaceuticals
Now that he joined the Pharmaceutical Team, Mr. Mita was working in a GMP-compliant cleanroom for the first time since joining MANAC. It was here that he again experienced firsthand the challenges of work.
"We are constantly aware of the fact that any mistakes we make could, at worst, cost the lives of patients. We also have to keep to the production schedule for patients waiting for medications."
Mr. Mita reports that he is often cautioned by more experienced team members that "Having various types of knowledge is important, but you need to conduct yourself as a professional adult." When keeping the fundamental "report-contact-consult" principles of work in mind, you find that you must communicate in a succinct, precise manner. Mr. Mita described how he finally accomplished such fundamental standards as a professional.
"You can sense the pride that the Pharmaceutical Team has in their work. I still have a long way to go in studying to gain specialized knowledge about GMP and chemistry in order to aim for a supervisory position. I would like to demonstrate my own standing within the Pharmaceutical Team by learning from my supervisors and experienced team members while continuing my work here."
In the next article, we will learn the story of a young, second-year MANAC staff member of the Pharmaceutical Team.