Products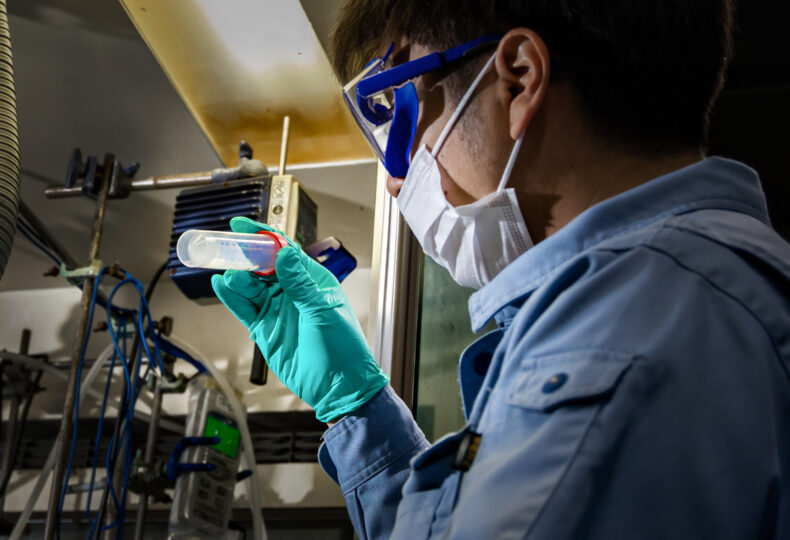 Turning the tide just when all hope seemed lost / Taking on the immense challenge of reducing the manufacturing costs of DAIB, a hypervalent iodine compound (2)

【CAS No.】3240-34-4
【Chemical name】
(Diacetoxyiodo)benzene
【Chemical formula】C10H11IO4
Every chemical company in the world embarks on a continuous endeavor day after day to discover ways to improve raw materials and manufacturing processes to minimize production costs and raise manufacturing productivity through even the slightest enhancements. Taking on challenges, however, is by no means an easy feat.
Having received a request from a Japanese domestic active pharmaceutical ingredients (APIs) manufacturer, MANAC set out to improve its manufacturing of DAIB, a hypervalent iodine compound, in order to reduce manufacturing costs. However, almost as soon as they started exploring manufacturing methods, the project immediately hit a brick wall, and the targeted purity remained just out of reach. (See the previous interview article for more details.)
Three months would come to pass after launching the project, and yet another day would go by without achieving target purity. How exactly did MANAC surmount such a pressing challenge? We sat down with Mr. Go Tanaka of DAIB sales and Mr. Chihiro Enmei, head of experiments for the DAIB manufacturing improvement project, to look back and learn more.
"Failure breeds success" — Finally achieving a high-quality, low-cost DAIB manufacturing method
"We had achieved production of DAIB, albeit with low purity. From there, we continued working to improve DAIB manufacturing, expecting that we could raise purity by adjusting the reaction conditions in precisely the right way. But we began to grow disheartened after experiencing failure after failure. On that 'momentous day,' I was at the research center laboratory assuming that we would have nothing more than the usual unsuccessful attempts."
It was on that day that Mr. Enmei ran an experiment under a certain set of reaction conditions.
The experiment produced DAIB with the usual low purity, but there was something that caught his attention.
"I had taken these reaction conditions as unsuccessful, but I decided to try an additional experiment just to be sure."
This additional experiment was intended to be a "quick, extra confirmation." However, when analyzing the results closely, Mr. Enmei gained an unexpected clue.
"Up until then, we had been using one specific type of raw material for each experiment. However, owing to this additional experiment, we realized that even if we were to change the raw material to a cheaper material, we might still be able to synthesize DAIB. Moreover, this cheaper raw material may actually raise the purity of our DAIB. At this moment, we uncovered a completely new approach to achieving our mission."
Production of DAIB was successfully achieved after switching the raw material. Doubling down on this approach, the team was able to bring DAIB up to approximately 100% purity while also improving productivity. At this point, nearly a year had passed since launching the DAIB manufacturing improvement project.
Mr. Tanaka commented on Mr. Enmei's unwavering persistence through even the project's most difficult hurdles.
"The project was an extremely challenging one. It would've only been natural to give up along the way. I greatly admire Mr. Enmei's dedicated research with his commitment to analyzing rather than dismissing each failed attempt until success is achieved."
Now that MANAC has achieved production of DAIB at a lower cost without sacrificing quality, Mr. Tanaka explains that they would like to actively promote their high-quality, low-cost DAIB.
"Our new DAIB was highly received once we began providing it to a certain domestic API manufacturer in Japan, who praised our DAIB as reliable with its high quality. Moving forward, we would like to have many more DAIB-using API manufacturers in Japan and around the world use MANAC's new DAIB."
Aiming to contribute to SDGs by recycling iodine
Most typical chemical companies would likely only "produce and sell" DAIB. However, MANAC looks beyond this basic model and seeks to recycle byproducts.
"A byproduct known as iodobenzene is contained in the waste liquid that results from using DAIB. Since iodobenzene is also a raw material of DAIB, it can be used again to manufacture DAIB if it is sufficiently collected and purified. Our ultimate goal is to carry out this kind of recycling," explains Mr. Tanaka with great enthusiasm.
"Here in recent years, the global demand for iodine has been rising, making it difficult to obtain. Such circumstances make recycling important to ensure a stable supply of iodine. It goes without saying that recycling iodine, a valuable natural resource, also contributes to SDGs. Rather than simply making products, we take a comprehensive approach and consider factors such as our raw material procurement methods and impacts on the global environment. Our strength at MANAC lies in this approach." (Mr. Tanaka)
There is a defined market globally for DAIB, and its application outside its use as an oxidant is expected to expand. MANAC will continue to strive in its manufacturing and marketing of DAIB.
The dedicated passion of MANAC researchers
MANAC researchers never give up, even when it seems that hope is lost. MANAC's new DAIB was achieved through the tenacious dedication and commitment of its researchers.
The researchers at MANAC continually advance various areas of research day by day while working to overcome countless failures that pose as barriers to success. And throughout the process, it is only the future upon which they focus.