Products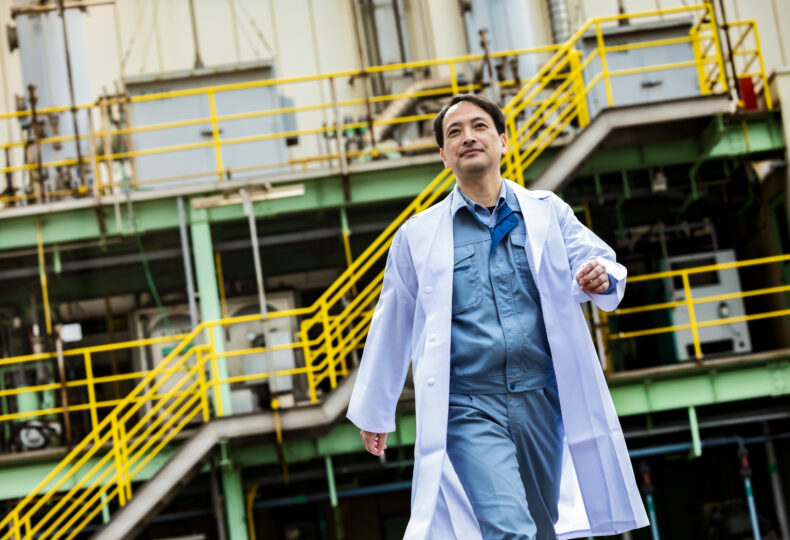 A hit product 10 years after collaborating with a university:The untold story behind developing Etak® and its 1-week continuous disinfecting/antibacterial effects
In 2020, the number of people who pay attention to disinfecting and antibacterial products grew. Many of you who work in restaurants and businesses with a large number of customers coming and going likely felt burdened by having to frequently and thoroughly use sprays and wipes. We have good news for you. There is a chemical compound that can simultaneously disinfect and apply an antibacterial treatment. The effects last for one week, and the compound is safe for human health. This is the first hygiene-related product developed in-house by Manac. The following is the story behind the development of this product from Hironori Takeda, team leader of the Manac research center's Pharmaceutical team.
Initially developed as an antibacterial agent for oral use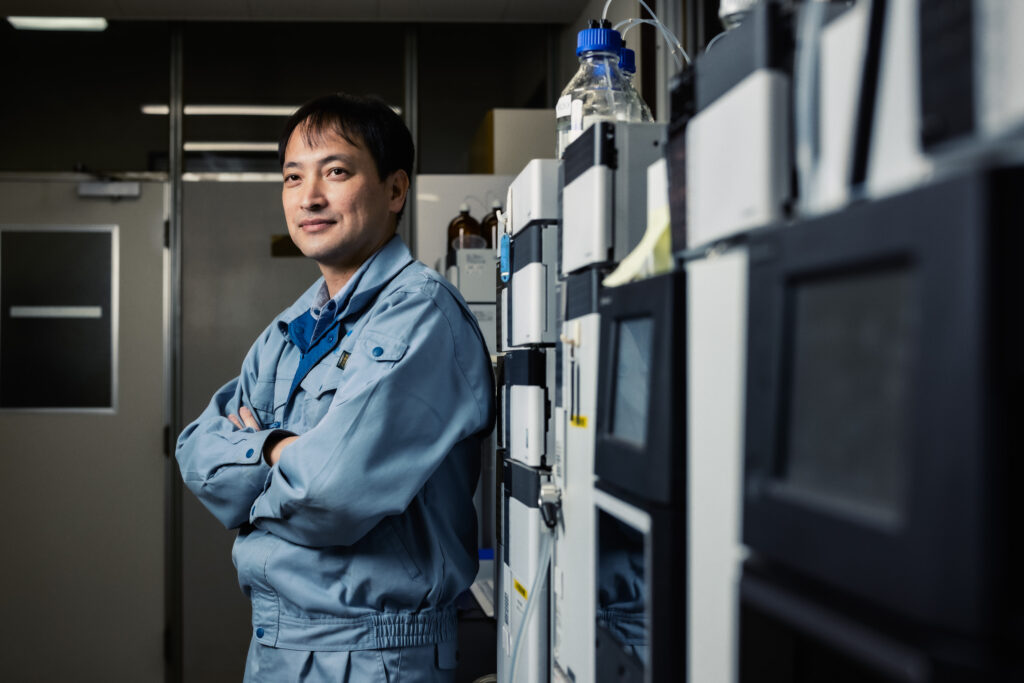 Manac manufactures compounds and intermediates used as raw materials in electronic components and chemical intermediates in pharmaceuticals. In most cases, orders to produce chemical intermediates are received from manufacturing clients. However, in 2007, we unexpectedly received an unusual request. The request came from Graduate School of Biomedical and Health Sciences Professor Hiroki Nikawa of Hiroshima University. "We are investigating oral antibacterial agents, but we are unable to synthesize compounds within our university. Would it be possible for Manac to do that for us?"
At the time, Mr. Takeda was part of a research division that develops in-house products and technologies. As Manac focuses on contract manufacturing, it did not have any in-house development for hygiene-related products. Since Mr. Takeda had earned his doctorates at the School of Medicine of the University of Hiroshima after joining Manac, he was given the role to visit Professor Nikawa.
One year of trial and error experimenting with reactions between silane compounds and quaternary ammonium chloride
Professor Nikawa explained, "We want to make an antibacterial agent that can be immobilized onto oral surfaces such as artificial teeth by combining silane compounds with quaternary ammonium chloride." Such was the beginning of a series of trial and error for Mr. Takeda, who realized that "this could be our first in-house development of a hygiene-related product." It took one year of trying and searching to achieve a safe and immobilizing antibacterial agent combining several forms of both silane compounds and quaternary ammonium chloride in test tubes.
However, manufacturing does not end with the completion of a test tube solution. Whether or not it was possible to achieve stable mass production of the agent at a plant posed a challenge, and so it was decided to establish a special production line. More time was again required to analyze the new compound and confirm that it cleared standards, and in 2008, the immobilizing antibacterial agent Etak® was completed.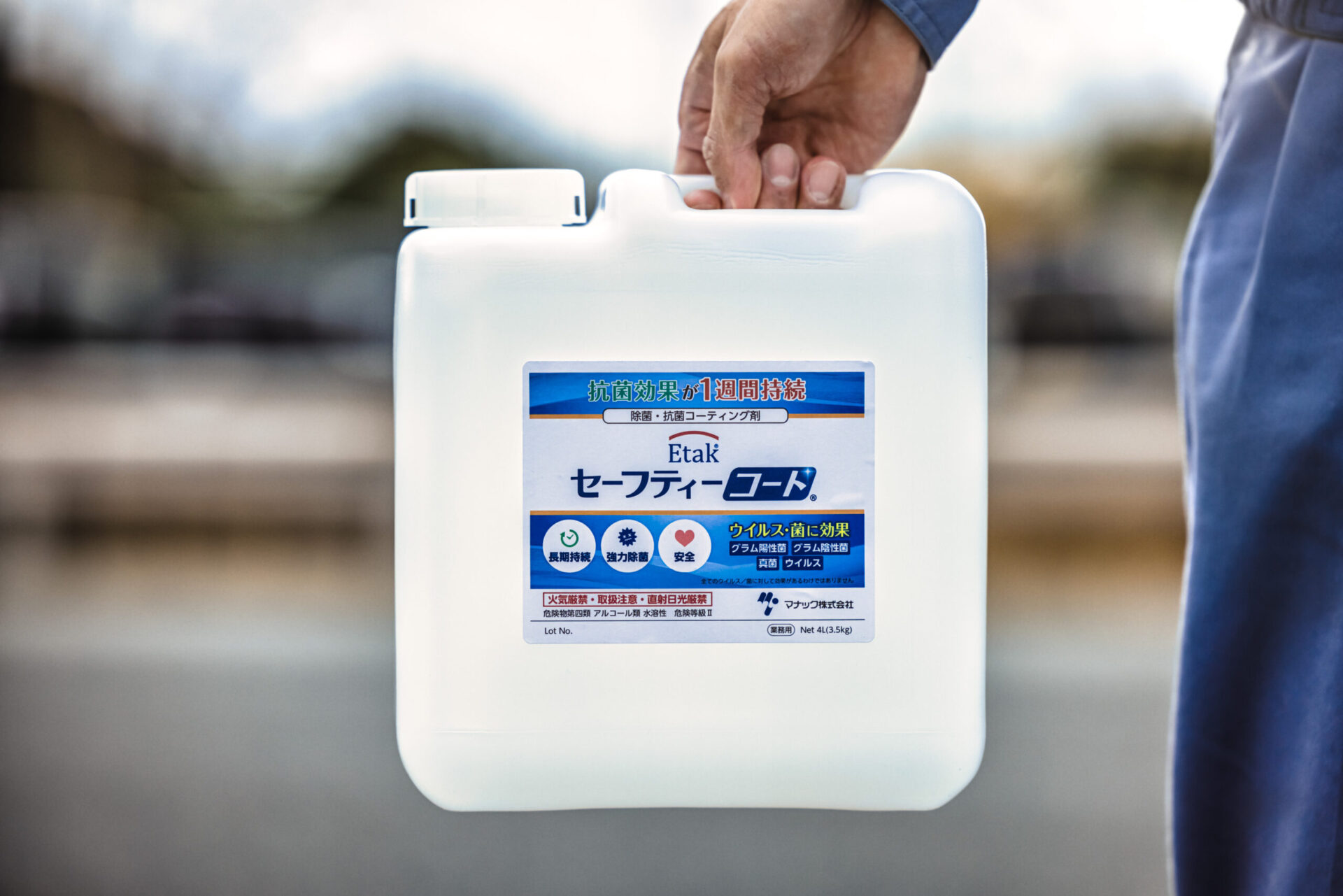 Characteristics of Etak®
Etak® has the three following characteristics:
Long-lasting antibacterial effects: Etak® forms an antibacterial/antiviral barrier that lasts for approximately one week, making it longer lasting than ethanol, chlorine dioxide solutions, and hypochlorous acid solutions. These effects last in towels treated with an Etak® solution even after 50 washes.
Effective against many types of virus and bacteria: Proven effectiveness against many different viruses (both enveloped and non-enveloped), bacteria (both gram-positive and gram-negative), and fungi.
High level of safety: Safety verified through multiple tests. Tested as "non-irritant" in primary skin irritation tests, "negative" in skin sensitization/mutagenicity tests, and a "safe product" in human patch tests.
As Etak® immobilizes on surfaces, the compound will also adhere to fibers, making it effective as a face mask antibacterial treatment. Face masks sprayed with Etak® and worn for several hours showed mostly no microbe growth 24 hours after being sprayed. The compound is also listed in the International Nomenclature of Cosmetic Ingredients.
The significance of developing our first hygiene-related product, and future developments
Etak® was first introduced to the market in 2010, and is used by major manufacturers as an antibacterial agent, among other applications. Although sales were not very strong through to 2019, demand is increasing amid the explosive rise in the importance of measures against viruses. We asked Mr. Takeda about current and prospective developments.
It appears that Etak® has garnered sudden attention.
It wasn't really selling at all at first.
Was there any discussion within Manac about possibly ceasing production?
As our company mostly deals with contracted manufacturing, there was a strong desire to have our own original products developed in-house. It is also very beneficial for companies to handle many products. There was never once discussion about stopping production even before it became a big hit
It appears likely that interest in disinfection and antibacterial products will continue to grow as we enter the "new normal" era. Do you have any plans to develop Etak® further?
Yes, we will continue further development. Our current product has a long-lasting effect on materials such as fiber and wood, but the antibacterial agent does not adhere well to certain surfaces such as plastics, and so the effects aren't as long lasting with these materials. Our research is now focusing on ways to achieve adherence to plastics. We hope you'll be looking forward to our developments to come.