Products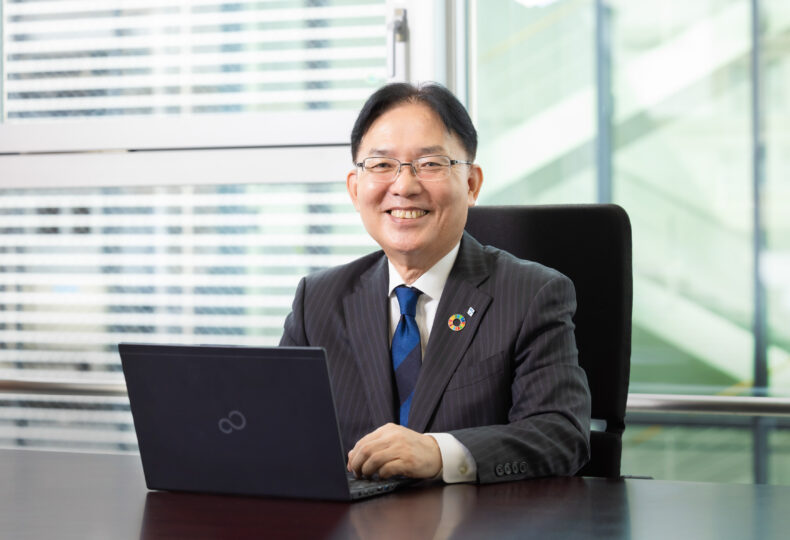 Taking on challenges in new business domains based on SDGs / Excitement from MANAC! / President Murata Interview
MANAC Chemical Partners Co., Ltd. (MCPs) was established on October 1, 2021. The shares of MANAC Incorporated will be transferred, making MCPs the holding company for the MANAC Group. Chemia's editorial team sat with Koya Murata, President of both MANAC Chemical Partners Co., Ltd. and MANAC Incorporated, to learn about the aim behind the transfer to a holding company structure and the strategies going forward.
Editorial team note: In this article, MANAC Chemical Partners Co., Ltd., which became the holding company on October 1, will be indicated as "MCPs," while MANAC Incorporated, which simultaneously became a wholly-owned subsidiary, will be indicated as "MANAC."
Focusing on growth more than ever before
There is a sense of new beginnings with the word "exciting" in the slogan at the top of the MCPs corporate website launched on October 1.
I believe you are referring to "Jointly creating an exciting future on the foundation of chemicals."

With the shift to a holding company, I am filled with ambition for the future of the MANAC Group, and am ready to see the group achieve further growth and expansion. That is the very reason why we broke from our usual practice thus far and placed a slightly adventurous message at the fore; we wanted to share our enthusiasm with those involved with the MANAC Group.
It has been three and a half years since you were appointed president of MANAC in April 2018. How would you describe the company's current position?
Our business performance is stable. But, put differently, you could also say that we have room to grow. As we move forward, it will grow increasingly important for our sincere and diligent employees at MANAC to embrace a spirit of growth. We will be focusing on growth more than ever before.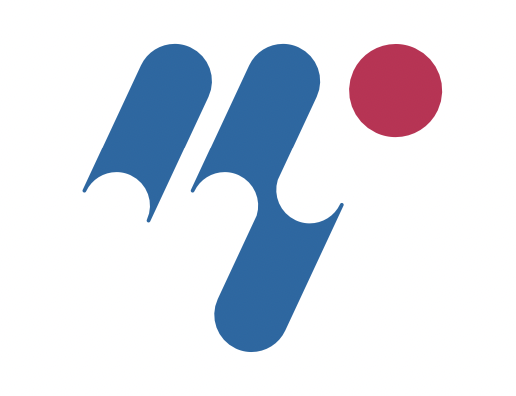 Aiming for "non-continuous growth" with responsive decision-making
How would you explain the aim behind the establishment of the MCPs holding company?
Transferring the authority over MANAC's operations to enable responsive decision-making allows us to continuously grow our three established business domains (1. flame retardants; 2. health support; 3. fine chemicals).

The MCPs holding company, on the other hand, is a company that considers "non-continuous growth."
Growth of our business so far has been "continuous growth," whereas our usage of "non-continuous growth" refers to areas that MANAC has yet to adequately undertake, such as M&As and capital alliances. We want to take on the challenge of forming alliances in these areas and achieve growth across the entire group.

A departure will be made from full in-house production, and external partnerships will be fostered. We are also considering risk-taking through proper investment. Our current medium-term business plan, for which this fiscal year is the final fiscal year, puts forth "global," "alliances," and "risk-taking" as key measures, and we would like to further accelerate these developments and realize non-continuous growth, even during the COVID-19 pandemic.

And at the heart of it all, we want MCPs to be the core that connects all stakeholders. This is the meaning behind the integration of "Partners" in the MCPs company name.
Have candidates for M&As or capital alliances already been identified?
With our transfer to a holding company structure, acquaintances of mine have been asking me this a lot, but the slate remains blank. In terms of business domains, we still do not know where we may advance. This is a point I clarify as I would prefer not to have widespread speculation.
What were the reasons behind the timing of the transfer to a holding company structure?
The switch was made to achieve a structure that would allow us to initiate non-continuous growth immediately at any time.

Say, for example, that we find an entity that would make a very good alliance partner. Even if that entity happened to be in a business domain that MANAC had yet to adequately take on, MCPs would be able to make a speedy decision. You could think of it as similar to not having a partner in mind for marriage but being ready to prepare a new home for a newlywed life at any time.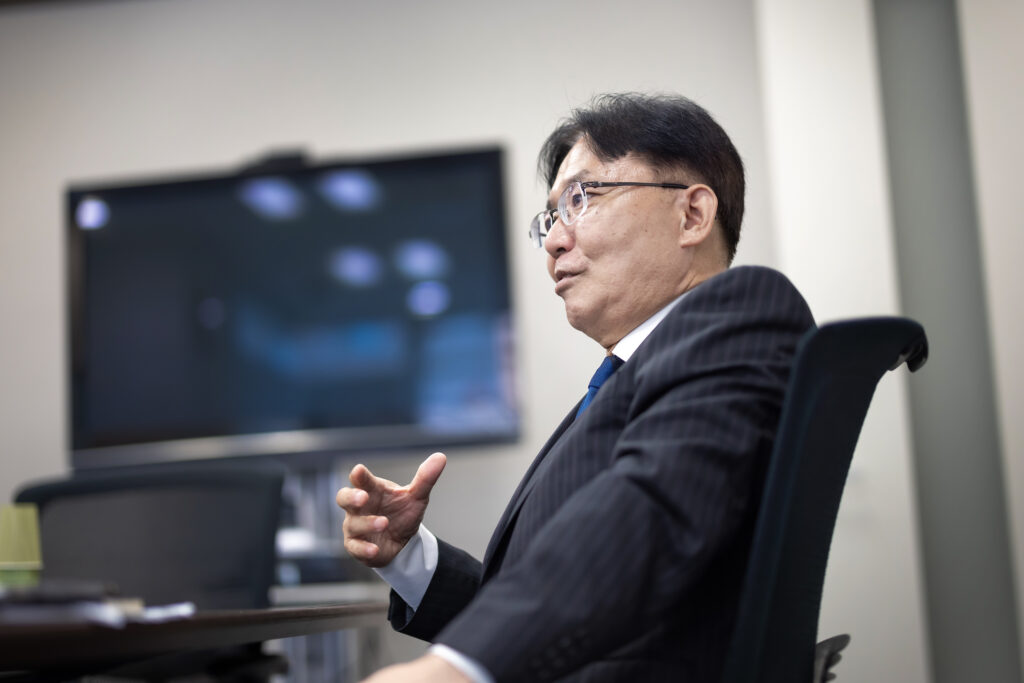 The key phrase is "Is it sustainable?"
Do you have any set standards for when MCPs advance into new business domains?
We will base our approaches on the SDGs when expanding into new areas. In more simple terms, our standard will be to ask ourselves, "Is it sustainable?"

At the frontlines of production for chemical products, we face daily challenges dealing with both price competition and environmental burden, which appear to be opposing elements at first glance. Amid such challenges, we will advance our cyclical business based on the key phrase, "Is it sustainable?"

As was announced in June 2021, MANAC has joined an industry-government-academia collaboration project that makes plastic alternatives from components of wood materials.
You must be referring to the pilot plant to manufacture the new Glycol Lignin materials started with LignoMateria, Forestry and Forest Products Research Institute, Tokyo University of Technology, and other organizations.
We send researchers and have been involved since the plant's designing stage. Creating new materials using Glycol Lignin, a component of wood materials, in place of petroleum resonated with me as a sustainable endeavor. In the future, I would like for MANAC to also leverage its strength in technology in application development for Glycol Lignin.

We are also working to develop new fireproof wood-plastic composites (WPC) to contribute to the sustainable use of wood materials and the reduction of petroleum usage.

Additionally, in order for the MANAC Group itself to grow sustainably in this age of turbulent change, I believe that we must secure and develop, with intent, both specialized personnel in each business domain and senior management personnel. Our shift to a holding company structure includes future considerations of initiatives to achieve this.
Just earlier, you mentioned recycling waste liquids. On Chemia, we introduced a business model that recycles the iodine-containing wastewater, a byproduct from producing pharmaceutical intermediates.
The people at GODO SHIGEN Co., Ltd., who provide a stable supply of iodine for us, operate an iodine recycling program. Up until now, companies producing iodine compounds have been paying fees to dispose of waste liquids. By taking advantage of this recycling program, we now can have used iodine collected, and then use the recycled iodine to produce new iodine compounds.

I want for us to achieve "non-continuous growth" in new business domains on the foundation of these types of initiatives undertaken so far. This is the greatest aim of MCPs.
It is very exciting to hear your dedicated passion toward driving the MANAC Group into an ever-growing array of business fields based on the philosophy of the SDGs.
Come October, I'll only be pushing further ahead.
Be ready for more excitement from MANAC!